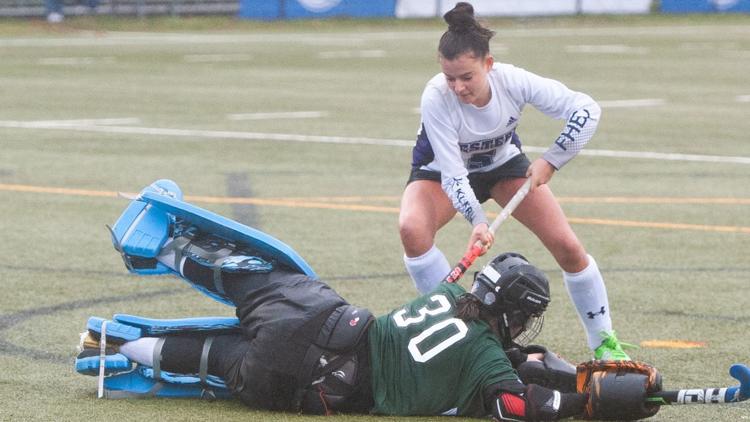 The Mustangs women's field hockey season came to an end on Sunday after their run at the Ontario University Athletics Championship, hosted by the Guelph Gryphons.
In typical OUA fashion, they were presented with horrendous and difficult conditions — rain, wind and as Coach Jeff Pacheco called them "a hurricane." 
A 3-0 loss in their first game against the York Lions sent Western University to the consolation side of the bracket. 
With this loss, the best they could place was fifth. Their original goal of being in the top four had already slipped away.
They faced the McGill Martlets in their second game, where they suffered a heartbreaking 3-1 loss. It would be the first loss for the Mustangs against the Martlets in 17 years, and as indicated by Pacheco, this left quite a bruise.
Ending the 2019 season on a bit of a positive note, Rachel Tidball scored the first goal, helping the Mustangs manage a 2-1 win over the McMaster Marauders in a shootout. 
Tidball is a rookie who played a pivotal role throughout the season, her excellent skill and ability to attack created a lot of chances for the team.
Ultimately, the team came in seventh place in the tournament
Looking ahead to next year, the Mustangs used this season as a rebuilding year as they were able to develop their skills and weather through useful learning experiences.
Captain Amber Jolly was able to step up this season, as her "ability to possess the ball, change field position and carve out any opportunities that she could" helped to lead the team.
In regular season play, the Mustangs were 2-9-1.
"The season started off with a lot of promise," said Pacheco, "a lot of strong recruits came in this year with a decent amount of skill, but obviously no experience in the OUA." 
The team is carrying only three fourth-year athletes with only one playing in the starting lineup. Having a young team with eight rookies, has inevitably lead to this being a big transition year and time for growth. 
Madison Fisher, called "fish" by her teammates, found the net when goals were needed and drove the defence to beat the press, which came clutch throughout the season.
Pacheco acknowledged that it is nice to know that they have the ability to generate the quality that is needed to reach the top level in this league.
Having a year under the team's belt gave them tremendous experience, which will be extremely motivational and beneficial going into next season.
Ending on such a sour note is nothing shy of disappointing, yet the coaching staff remains hopeful.
"If we find the ability to score goals, we can win in this league," said Pacheco.
Without a doubt, he believes that the team can be ranked in the top five next year.