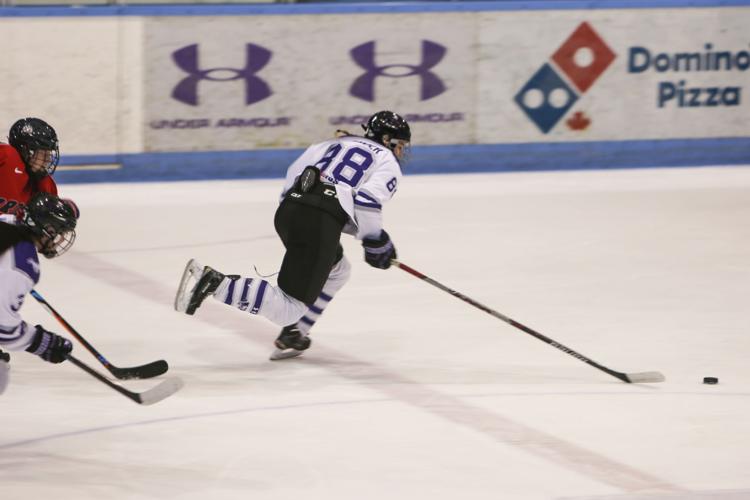 Western's women's hockey team didn't have everything go their way last weekend. They picked up just their second regulation loss of the season, dropping a 4–0 contest on Sunday to the league-leading Queen's Gaels. 
The Western Mustangs split their Remembrance Day weekend games, winning on Saturday against the UOIT Ridgebacks, 3–1. Now eight games into the 2017–18 season, they're third in the Ontario University Athletics standings, but they're tied in points (15) with the second-placed Brock Badgers. 
"Bounces didn't feel like they were going our way," said Mustangs captain Emma Pearson of their loss to Queen's. "We were trying to chip it to the next player, and it would be one step in front of her or something. I don't know if that's them or us, it just wasn't connecting as well as we wanted it to."
In that game, the Mustangs were in large part thwarted by a rock-solid goaltending performance from Gaels netminder Stephanie Pascal, who turned away all 29 shots. Western went to the power-play five times, but failed to capitalize on any. 
As tough as their Sunday contest was, Western's team is no slouch among the OUA heavyweights. They're right in the mix at the top of the standings and thankfully so. The Mustangs will host the U Sports national championship in March, meaning they'll need to be a solid team to keep up with the country's best.  
The Mustangs are a potent offensive team this year, tied for second in the OUA with 22 total goals. April Clark is leading the way for Western with five goals, and five players have four or more points.
"April is a player with pretty high skills; we lean on her to contribute offensively," said Mustangs coach Kelly Paton. "She's able to use her skill to change momentum."
The power-play has typically been a lethal weapon for Western (barring Sunday's 0/5 showing); they've converted on 22.9 per cent of their chances, behind only Ryerson University with 30.6 per cent.
On the other side of the puck, the Mustangs have been blessed with excellent goaltending. Rookie goaltender Carmen Lasis has a .934 save percentage, starting six games and allowing 1.82 goals on average. 
Moving forward, Lasis and her teammates will try to get back in the win column on Thursday. They play at home against the Guelph Gryphons, another contender in the OUA this year. 
"We know they have a goalie who manages the puck well, so we'll put a large emphasis on managing the puck and keeping it away from their goalie," analyzed Paton.
The chances will certainly come for Western; they're among the league leaders in shot generation. Although they couldn't score against Queen's, Paton is confident the puck will start going in soon.
"[We're] establishing a forecheck early and trying to get a high-pressure system established, so we can create some chaos and some turnovers," said Paton. "Hopefully we can get some pucks to the net."
The Mustangs play Guelph at Thompson Arena on Thursday at 7 p.m.