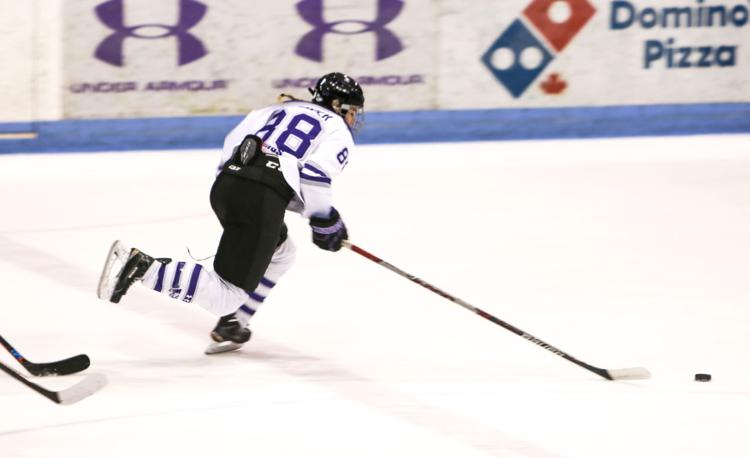 The Western Mustangs women's hockey team emerged from their first weekend of home games second in the Ontario University Athletics, after a shootout loss and then a win at Thompson Arena.
Western fell in a hard-fought defensive contest on Friday, losing 2–1 in a shootout to the Brock Badgers. They bounced back the next night, beating a hot Ryerson Rams team, 3–1. 
The four-point weekend improved the Mustangs' record to 3–0–1, with 10 points. They sit just three back of the first-place Queen's Gaels, although they've played one less game.
Four games into the season, there's plenty of cause for optimism for Western. They've allowed just one goal in three of their games, and as a result they placed ninth in the most recent U Sports national women's hockey rankings. 
Rookie goaltender Carmen Lasis has been excellent in her first year of OUA hockey, starting all four games. Her .946 save percentage puts her sixth among goalies who have started more than once, and she's averaging just 1.47 goals against. 
Lasis is supported by a strong defensive corps, featuring veterans like Edie Levesque, captain Emma Pearson, and her own sister Anthea Lasis. This defensive improvement is encouraging for Western, after they were sixth in the OUA in goals against last season. 
The offence has started to click as well, although the Mustangs were thwarted time and again by strong goaltending on Friday. They scored just once, despite throwing 42 shots at Brock goalie Jensen Murphy. Western has found the net more in other games, though, scoring six against the Nipissing Lakers and five against the Laurentian Voyageurs. 
"We've had a lot of success up front and getting pucks to the net," said head coach Kelly Paton. "[On Friday] we had a lot of great chances and just didn't score when we needed to." 
One major source of Western's offensive success has been the power-play. Last year theirs was the most effective in the league, and it looks to be strong again this year. They've scored four times with the man advantage this year, putting their success rate at 21.1 per cent. Their one goal against Brock came on the power play, off the stick of Megan Taylor. 
Brock's only goal that night was also on the power play, though, when Kimberly Brown was left wide open in front of the net. The penalty kill is one area the Mustangs will likely want to improve. 
"We've touched on the importance of special teams and girls buying into roles a lot in practice," said Paton. "There's gonna be moments when they don't see a lot of ice if they're in a specific role. Our execution on the power play's been fairly successful, but we'd like our penalty kill to be a little bit tighter."
Both Paton and her players agreed that there are kinks to be worked out in their game. Finishing more of their scoring chances would've put them past Brock, and it will help them in the future. The Mustangs had a handful of glorious chances in overtime that they couldn't bury.
The team also stresses the importance of maintaining their level of effort.
"We need to improve on playing a full sixty minutes," said centre April Clark, who was robbed by Murphy on her shootout attempt. "We've taken some shifts off, and we can't win when we don't play sixty."
Regardless, Western is a strong force in women's hockey this year. They'll try to continue rolling next weekend. The Mustangs take on the Toronto Varsity Blues next Friday at 7 p.m. at Thompson Arena and play at Ryerson University on Saturday at 7:15 p.m.