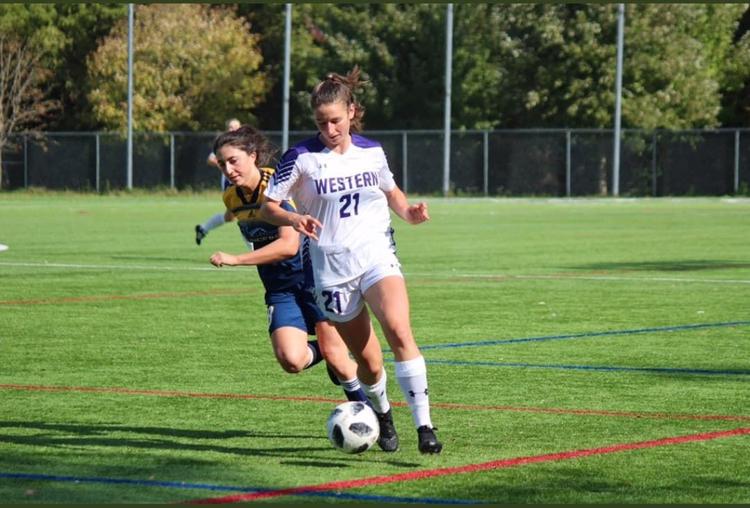 The Western Mustangs women's soccer team kicked off their postseason with a 1–0 win over the Laurier Golden Hawks in an Ontario University Athletics quarter-final on Wednesday.
Despite the low-scoring affair, Western's offence performed well on the day, putting 14 shots on goal. First-year striker Katrina Giantsopolous scored the only goal of the game, giving Western the victory.
Following the win, the Mustangs will be advancing to the OUA semifinals, while the Golden Hawks season has come to an end.
Both teams showed incredible skill and drive throughout the entire duration of the game. Western held control for the majority, but Laurier did not give up and fought hard for possession. By the end of regular time, in a game marked by competitiveness and riddled with injuries, neither team was able to get on the board.
"Even though we had three players go down in the game that had to come off, the players that came in stepped in and did the job," said Mustangs head coach Martin Painter. "And, credit to Laurier, they played excellent today. That was a great game of soccer. That was one of the best games I've seen since I've been here."
Following the injuries, second-year midfielder Giulia Geraci turned on the heat for Western, putting pressure on the Golden Hawks' defence and firing several shots on goal for the Mustangs.
"I thought the work ethic up front, the energy up front today was really good," said Painter. "I think we matched up against some tough defenders and we created some good situations. Geraci came close a couple times. So, up front, even though we only got the one goal, I thought the energy was good and I think we created a good situation."
Western did not hold back going into overtime, where Giantsopolous scored the game-winning goal off a corner kick.
"I think tonight was a great experience, great opportunity to build confidence and character," said Painter. "We'll do our best to be ready for Sunday and see how it goes."
The Mustangs will be heading to Toronto this Sunday, Oct. 28 to face off against the York Lions.