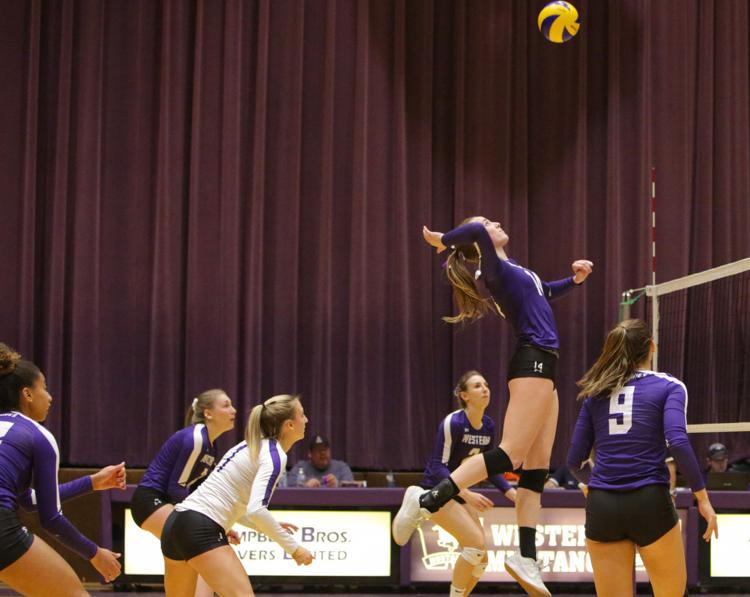 It wasn't as decisive as it could've been, but the Western Mustangs women's volleyball team ultimately finished off the Windsor Lancers in Friday night's game at Alumni Hall. The hosts needed five sets to take it (25–20, 26–24, 24–26, 22–25, 15–13), going all the way to the final frame after going up two sets to start the match.
Now 3–2 on the season, the Mustangs move up to second in the Ontario University Athletics West Division with a .600 winning percentage. After losing two straight games to the Brock Badgers and McMaster Marauders, the win against Windsor was a gritty bounce-back performance for a team expected to be a title contender this year. 
"It's great to see the calibre of the other West Division teams improving," said Western coach Melissa Bartlett. "That's going to make us better: these challenging matches."
Western's performance against the Lancers was a testament to the team's resilience. All the sets were close, and after they failed to close things out in the third, it was a serious challenge to maintain focus.
At times in the fourth and fifth sets, the Mustangs looked on the verge of losing composure, falling behind by significant margins a couple of times. In the shortened fifth especially, though, they were able to fight back from behind to edge out their opponents. 
"These long matches early in the season are going to make us better in the long run," Bartlett said. "It was a physical and mental victory as much as anything else because as an athlete, that's always in the back of your mind. It's hard to just play in the moment sometimes."
The Mustangs were very solid defensively, making 14 blocks (led by Kelsey Veltman, who made 11). In the backcourt, Courtney Sestric and Aja Gyimah kept the ball alive, racking up 24 and 23 digs, respectively.
Western's defence faced a relentless onslaught from Windsor's rookie sensation, Paige Phills, who scored 26 points to lead her team. Gyimah, Sestric and the rest of the team's defensive players were exceptional, though, salvaging several plays that seemed bound to end in a point for the Lancers. 
After a string of Windsor successes midway through the game, Bartlett switched up her team's defensive structure.
"We noticed that some of their outside hitters were burning us down the line, so we started blocking the line," said Gyimah. "The team had a really good defensive day. In practice that's what we work on — putting your all into getting a dig. We executed that pretty well, I think."
With the win, the Mustangs are back on track in their long season. Just five games in, they only have two contests left in November before the December break. Next up is a game against the team's fierce rivals, Queen's University.
In terms of what her team needs to do to succeed next weekend, Bartlett has some ideas.
"Sometimes we get a little too one-dimensional," she said. "We've got a lot of firepower, but we need to be a little more efficient with some off-speed tips and rolls. That's going to be a focus next week."
Western will play Queen's at 6 p.m. on Friday, Nov. 24 at Alumni Hall.