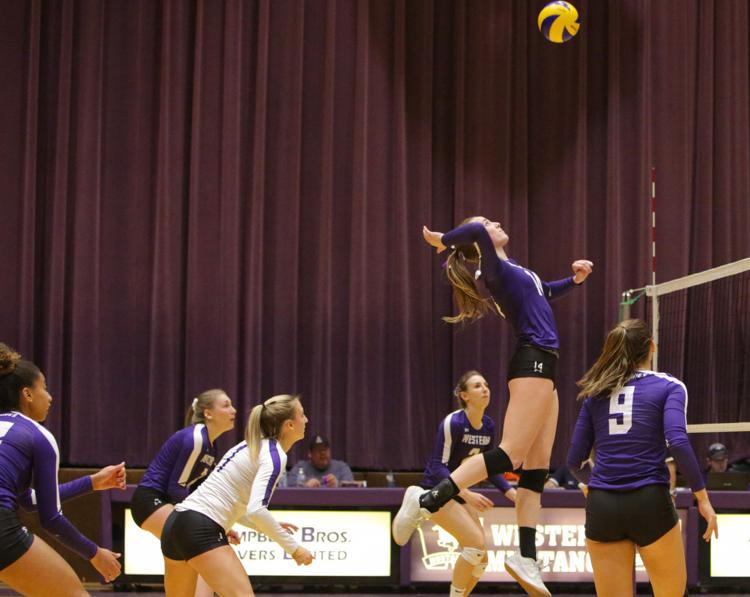 The Western Mustangs women's volleyball team didn't give up a single set this weekend, improving to 10–3 on the season with dominating 3–0 wins over the Nipissing Lakers on Saturday and the York Lions on Sunday. The Mustangs have now won their past four games three sets to none.
The Mustangs won their fourth straight match on Saturday as they beat Nipissing 25–22, 25–10 and 25–19. The win solidified their spot in second place in the Ontario University Athletics West Division thanks to a dominating performance from star middle, Kelsey Veltman, who led the team with 15 points.
Second-year right side, Carly Kimmett, also had an impressive afternoon for the Mustangs, leading the team with 15 kills.
"We're really starting to get into our groove and figure things out," said Mustangs setter, Kat Tsiofas. "We know what we need to do on our side to win games now. That's great to see towards the end of the season."
The Mustangs played a solid defensive game throughout the day, as their blocking and defensive coverage allowed them to stifle the Lakers offensive attack.
"We've been working hard on our defence, and we've been practicing blocking a lot — footwork and handwork with our coaches — and we really improved that during today's game," said Veltman of her team's performance on Saturday.
The Mustangs followed up their win over Nipissing, who dropped to 6–6 with the loss, with another dominating, straight-set win over the York Lions on Sunday. Western took the sets 25–11, 25–16, 25–12. 
Veltman led the Mustangs again, putting up an impressive stat line of 14 kills, two service aces and seven assisted blocks. The Mustangs' serving game proved crucial as they recorded 11 aces on the day.
"A lot went well, and I think it started with serving," said Mustangs head coach, Melissa Bartlett. "We served exceptionally well this weekend with minimal errors and hit our targets, and that was a big part of our success."
Second-year outside, Melissa Langegger, also had a solid day for the Mustangs as she recorded 10 points, six kills, three aces and two assisted blocks.
With the pair of wins over the weekend, the Mustangs took an eight-game lead over the Windsor Lancers for second place in the OUA West. The Mustangs will now hit the road for much of February, as they play four road games before returning to Alumni Hall on Feb. 23.
Two of their next four games will be against the 9–4 Toronto Varsity Blues and the 12–1 McMaster Marauders. For a team with aspirations of an OUA title and a return to the U Sports National Championship tournament, two games on the road against fellow contenders will be pivotal as the playoffs begin to rear its head.